SUPPORT OTHER SMALL BLACK OWNED BUSINESSES
VIEW LADIES T-SHIRTS | VIEW LADIES TANK TOPS | VIEW LADIES LONG SLEEVE | VIEW YOUTH TEES | VIEW TOTE BAGS | VIEW EARRINGS
VIEW MENS COLLECTION | VIEW HIS/HER'S COLLECTION
This page was created to highlight other small Black Owned Businesses. Visit the listed businesses website's below.

Diggin' Her Roots: Specializing in African Fabric & Accessories | Owner: Leeand Diggs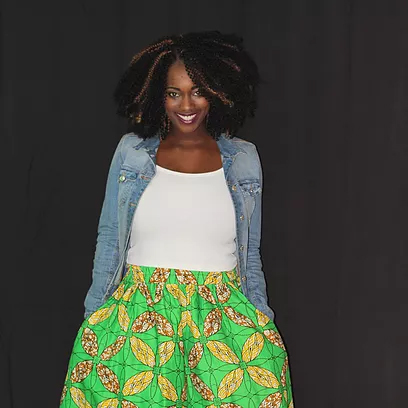 Visit Diggin' her Roots Website
Hair Free Girl & Diggin' Her Roots Collaboration - Featured items: Hair Free Girl Tank Top, Hair Free Girl Earrings, Diggin' Her Roots Blazer
---
YellowBagDesigns | Owner: Jamila
YellowBagDesigns offers unique handmade jewelry for both women and men as well has handmade natural soy candles from her Ting & Dem Candle line (The Caribbean Themed Candle Line). The designer believes that bright colors and  invigorating smells excites both the mind and spirit.  
Visit YELLOWBAGDESIGNS WEBSITE
---
SHOP LADIES TEES
SHOP LADIES TANKS
SHOP LADIES PLUS SIZE TEES
LADIES LONG SLEEVE
SHOP YOUTH TEES
SHOP TOTE BAGS
SHOP EARRINGS
SHOP MENS COLLECTION
SHOP SORORITY INSPIRED COLLECTION
VIEW REFUND POLICY
VIEW SIZE CHART